One common question I have been asked often since following a vegan diet is, "Where do you get your protein?"
My name is Lisa. I am the creator and writer of 2sharemyjoy.com, and today I'd like to share some high protein recipes that are budget-friendly and vegan. With these 10 high-protein vegan dinner recipes, you can eat on a budget and eat a satisfying meal.
There are many myths out there about the plant-based diet, even though enjoying a whole food vegan diet comes with numerous benefits. All high protein vegan dinner recipes below contain between 19g and 33g of plant-based protein. If you enjoy meal prep, you can freeze all meals in your meal prep containers. I also don't use any added oil or sugar in the recipes.
These high protein plant-based recipes are also great if you:
work out/build muscle
enjoy easy weeknight dinners
are on a budget
are new to the vegan diet
enjoy freezer meals and meal prep
Wondering how to add even more plant-based protein to your diet? Check out my high protein vegan meal plan with up to 90g of protein per day.
You may also want to check out the Plant-Powered Health: Ultimate Vegan Starter Guide To Excellent Health Using The Power Of Plants.
Budget-Friendly High Protein Vegan Dinner Recipes
#1 Vegan Fajita Rice Bowl
This recipe is oil-free, gluten-free, and vegan. The plant-based dinner can be prepared in 30 minutes, contains 460 calories and 21 g of protein per serving, and is about $1.70 per serving. Get the recipe here.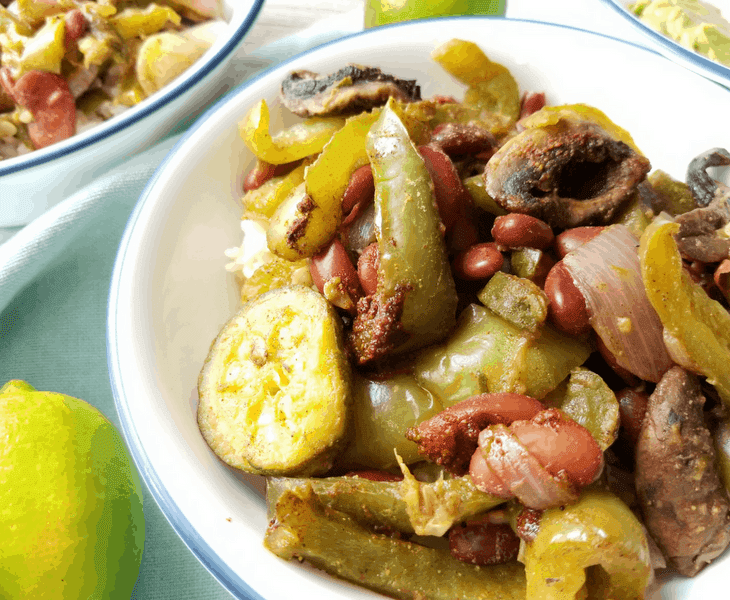 #2 Detox Power Bowl
This healthy detox buddha bowl is easy to prepare, has no added oil, is gluten-free, and contains 28g of protein per serving. Get the recipe here.
#3 Vegan Meatballs (Beanballs) with Marinara Sauce
1 serving (2.5 large meatballs) equals 435 calories and 22.54g protein. You can top your pasta, bun, or even rice with these beanballs. Get the recipe here.
#4 One Pot Taco Elbow Pasta
Easy, frugal one-pot meal that contains 500 calories and 21g of protein per serving. Get the recipe here.
#5 Curried Chickpeas with Fried Potatoes
A healthy, gluten-free, vegan, oil-free recipe for only $1.50 per serving and done in 25 minutes (28g protein per serving).Get the recipe here.
#6 Creamy Avocado Pesto Pasta
This frugal plant-based pesto recipe is done in under 20 minutes and contains 23g of protein per serving. Get the recipe here.
#7 One-Pot Lentil Quinoa Curry
One serving of this one-pot curry costs about $1.30, contains 560 calories, 33g protein, and is high in iron (10.8 mg), zinc (7 mg), and magnesium (220 mg). Get the recipe here.
#8 Vegan One Pot Pasta with Zucchini and Beans
This 565 calorie meal is done in 30 minutes and provides 30g of protein at only $1.40 per serving. Get the recipe here.
#9 Healthy and Easy Lentil Soup
Lentil soup can be done in under 25 minutes, but make sure to double up on the recipe and serving size to get 500 calories and 30g of protein. Get the recipe here.
#10 One-Pot Mexican Rice Bowl
The one-pot Mexican rice bowl recipe contains 30 grams of protein per serving and can be found in this vegan meal prep post.
About Lisa
My name is Lisa Goodwin and I moved to the States from Germany in March 2016.
When my family moved to the US I was overwhelmed by all the fast-food opportunities and gained one pound after another.
After a while, I thought, "I can't keep doing this." So I started to lose weight (10 pounds in 30 days) before the weight gain could get out of hand.
I achieved this with a clean eating plan, portion control system, and exercise (3-5 times per week). After the diet, I had to focus hard so I wouldn't gain the weight back.
Once I started a (healthy) vegan diet, I lost five more pounds without trying.
I didn't have to count calories or portions anymore. I felt all around healthier with more energy, and I can say now that it is very easy for me to keep additional pounds off.
This change was more of a lifestyle change, and my family's health is better than ever (for example: my toddler's eczema reduced by 90%).
Based on all the positive results gained through my fitness and health experiences, I am passionate about sharing fitness tips and healthy plant-based recipes that nourish your body without breaking the bank.
You can also follow me on Pinterest or Instagram.
➡️ What to read next: 30 Ways To Cut Your Spending And Save Thousands Per Year
Don't forget to sign up for the free resource library and get exclusive access to free printables & planners related to saving and making money, meal planning, and more!
Free Printable Resource Library
Join 10,000 others to get access to 20+ free printables related to achieving financial freedom, starting a side hustle, and other fun goodies!